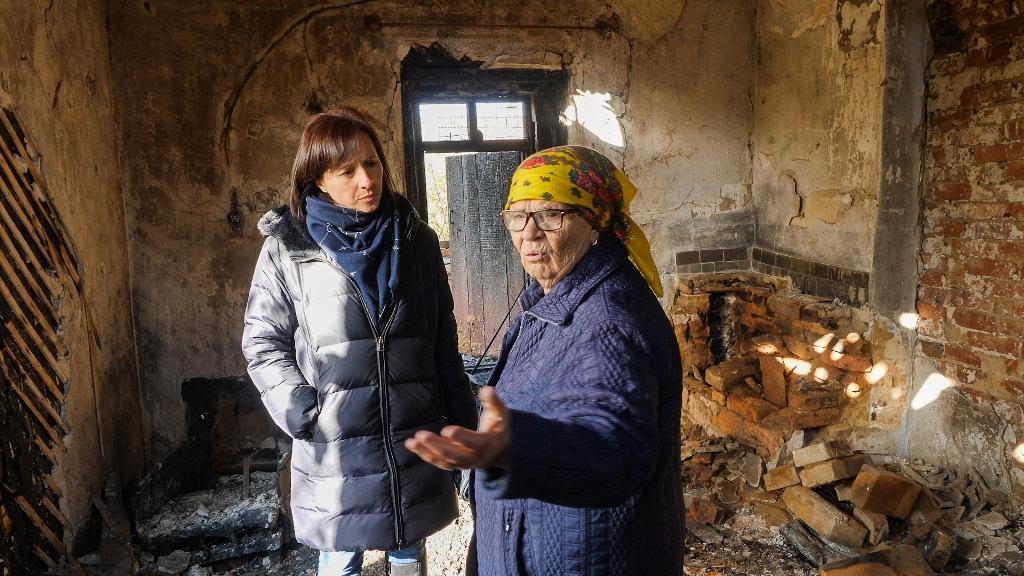 By Den Gorenkov and Inna Sinkevych
Kamyanka
village of Donetsk region is
caught between two warring parties. Constant hostilities and shelling with
the use of mortars and grenade launchers are an everyday reality here.
The main highway leading to occupied Donetsk passes right by the village. It's
vacant now. The roadsides are mined. There is a blown-up bridge close to the
village.
Starting from 2014, two thirds of the inhabitants left the village. The
people who stayed behind are the ones who have nowhere to go. There are also
some refugees whose houses were destroyed and they had no strength to flee.
Right in the center of the village there is a "club" (recreation center).
It's a one-room building where the village life takes place. The walls are
covered with announcements, a Ukrainian flag and a hand drawn map of mined
fields and dangerous places. When the shelling intensifies the villagers hide
in the "club" cellar. Since all the shops in the village closed down with the
start of the war and there is no regular transportation to the village,
Christians from neighboring villages and towns started bringing humanitarian
aid and food even in the dead of winter. When Mission Eurasia Bread of Life
bakery was installed in Myrnograd the people in Kamyanka started receiving
fresh bread on a regular basis.
Dedicated and courageous Christians and Bread of Life project gave a start
to regular meetings for the villagers in the "club." Once or a few times a week
around 40 people get together to hear from the Word and share their testimonies
of how Jesus changes lives and gives hope.
Mission Eurasia team was at one of such services and wants to share a few
stories from people who joined the church because of Bread of Life bread
distribution and help from faithful Christians.
Grigoriy's
story:
Grigoriy vividly remembers the "club" 40 years ago when his wedding took
place there. He was very young back then, worked very hard in the mines and
brought his wife into their new home in the village. That home was damaged in
2014 when his neighbor's house burned down from the incendiary bullets that hit
their house, the shrapnel of which damaged Grigoriy's home. Grigoriy doesn't
have a car and can't go to another town to buy bread or other basic
necessities. He also doesn't have an opportunity to leave the village but the
worse thing for him is not even shelling but the fact that their peaceful life
is destroyed and the hope for it to be restored is fading more and more. That
was why the message about hope that he heard in winter of 2018 in the "club"
made an impact on him. He also received help from Christians and was able to
fix his home. The biggest blessing for them was the Bible. "I had been an
atheist all my life and never read the Bible. It's weird but it is during the
war that I started reading God's Word and praying," shared Grigoriy. He is
grateful to Christians for the huge help and for the word of encouragement and
hope in Jesus Christ. Every Sunday he and his wife come to church to pray for
peace in Ukraine. "We are grateful to people who brought us bread and other
things and because of who we learned about salvation through Jesus Christ."
Valentina's
story:
In the summer of 2015 when a heavy shelling started in their village Valentina
and her husband hid in the cellar of their house. Valentina's husband went
outside to take their only cow to the barn. A shell landed nearby and killed
him. She then spent a few hours at the checkpoint with her dead husband trying
to get permission to take him to the cemetery that was in the "neutral zone" to
bury him. Valentina stayed in the village since she didn't have anywhere else
to go. Her daughter lives with her as her house got burned down from the
incendiary bullets. Every Sunday Valentina puts on her best scarf and goes to church.
She always listens to the sermon very attentively and is very open to learn
from Christians. She shows her home to them and with tears in her eyes shares
about her husband, "He was a really good man, he never drank, never smoked and
helped me with everything." Valentina really appreciates the help from her new
Christian friends and reads the Bible that she received in the church. "There
was no church in our village. Sometimes an Orthodox priest comes but he tells
us off for visiting the sect. And I tell him, "They are not sectarians, they
are God's people who support us and give us hope."
We ask you to pray with us for Grigoriy and Valentina and other people in
the village who are suffering the horrible consequences of war. But it's during
the war that these people met with Christians, received bread from Bread of
Life bakery and the hope in Jesus Christ. Pray for the new church to be growing
and for the people to get baptized and start sharing the gospel with other
people.